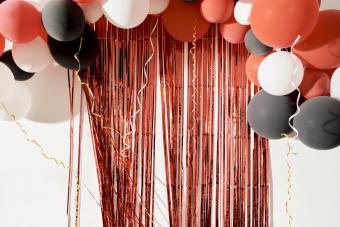 Plan your next party like a pro and show you off your streamer decorating skills. These imaginative and easy party streamer ideas will show you how to decorate with streamers and how to apply some creativity to your party plans. Making your party festive and fanciful just requires a few rolls of crepe paper and a daring DIY attitude.
Add Boho Flair With Fringe
A quick party streamer DIY is all you need for this trendy party look. Transform your basic party streamers with fringe for an effortless boho vibe. This fringe streamer design only calls for three supplies and is easy for even the most DIY-apprehensive party planners.
Hang Swags on the Ceiling
There's no crafting knowledge needed for this streamer application, but the finished design makes a bold statement for your party.
Supplies
Streamers or crepe paper
Step stool or sturdy chair
Strong, clear tape (packing tape is great)
Scissors
Instructions
Working with one strand at a time, grab your streamers or crepe paper and attach one end to the top of your wall with tape.
Bring the length of your streamer to the other side of the wall, stretching the length of the ceiling.
Determine the depth of your swag at this stage and give your paper a cut.
Tape the cut side to the top of the opposite wall.
Repeat with remaining streamers.
Space your streamers wide for a casual look, or bunch them closely together to create a large statement swag that captures the attention of your guests.
Use Streamers for a Party Backdrop
This party backdrop looks like it's complicated to make, but it's super easy to piece together. Guests will line up to snap a photo in front of your festive wall.
Supplies
Instructions
Choose a section of wall large enough to work with your desired design.
Cut your garland strand into varying widths - try 5-inch, 7-inch, and 9-inch sections for a layered look.
Start taping your strands horizontally, by the thick band of the garland, to your wall. Start at the top and work your way down, layering the various sizes and colors as you go.
Be sure to add the additional layers beneath the fringe of the first layer to hide the taped section.
Plan a Girly Gathering With Ruffled Streamers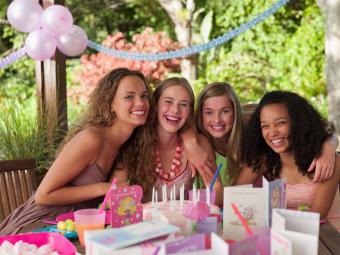 Transform Streamers Into a Table Runner
Skip the tape for this simple streamer idea. Crepe paper isn't just for dressing up your doorways. It's also a festive alternative to traditional table runners. Loosely twist long strands of streamers together and drape them across your table for a colorful party display that's truly effortless.
Create Volume With Tassel Garland
While you can certainly purchase tassel garland, making your own allows for specific color planning and a more cost-effective approach. Streamers and twine are all you need for this streamer DIY. Once you've crafted your decorating, you're ready to bring some volume and decorative panache to your celebration.
Dare to Decorate With Dip-Dyed Streamers
For vivid party decor with a touch of retro style, break out the crafting dye. Dip-dye your streamers for a truly unique look before you even start the hanging process. This streamer hack will have you one step ahead in the party planning process, and guests will wonder how you found such stylish streamers for your celebration.
Elevate Your Party With Streamer Chandeliers
If you really want to show off your creative side, make these streamer chandeliers for your next gathering.
Supplies
Streamers in various colors
Embroidery hoops
Twine
Double-sided tape
Scissors
Instructions
Cut four pieces of twine in equal lengths. This length will depend on the size of your hoop and how high you plan to hang the chandelier.
Tie each piece of twine to the edge of the embroidery hoop, making sure they are the same distance apart from one another.
Cut your streamers in equal lengths, depending on how long you want the chandelier to be. Factor in the extra length created with your twine.
Place a piece of tape the same width of your streamer on one edge and fold it over the embroidery hoop, meeting the back of the streamer on the other side. Press firmly to secure.
Repeat with all of your streamer pieces.
Once you finish the hoop, it's ready to hang. A corner of your room or from trees in your backyard is a fun way to display this creative streamer DIY.
Decorate Your Next Party With Streams of Creativity
Tuck these creative streamer tips away for your next celebration and watch as guests marvel at your decorating skills. They'll never know you made such festive decor with a short amount of time and an even shorter supply list.