Nostalgiacore is the latest trendy aesthetic sweeping the internet and social media. It's all about leaning into the things from childhood that bring us the sort of joy that only true nostalgia can create.
The nostalgiacore craze is seen in music, fashion, food, and home decor. The motto for nostalgiacore in home design is embracing how your home makes you feel rather than what it looks like. This design trend is all about creating an atmosphere in your home that feels safe, happy, and inviting. If you're trying to get the nostalgiacore look for your home, we've figured out the secret to getting the look in a stylish way that's doable for any home or budget.
Think of Textures & Materials That Feel Nostalgic
We can all think of the one material or furniture piece in our homes as kids that still sticks with us to this day. Maybe it's the feeling of crawling onto your family's leather sofa to watch cartoons on Saturday mornings. Perhaps you remember the white wicker headboard in your sister's room or that famous 90s blow up chair we all dreamed of having.
This little detail will be different for everyone, but those materials hold a lot of nostalgia. So, lean into that material and feature it in your space. You don't have to include an exact replica of what existed in your childhood home, but you can give a subtle decorative nod toward it with another piece that fits your current space. We're also on board with just making that blow-up chair work so you can live those preteen 90s dreams.
Add a Cabinet of Collections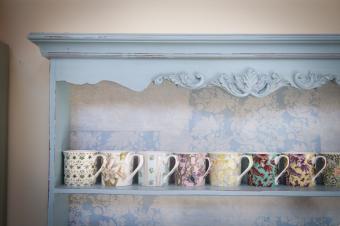 So many of us spent a large portion of childhood collecting something. Maybe it was all the Lisa Frank things, a huge family of stuffed animals, or all things Nintendo. Collecting those things is not only still an awesome thing to do, but it can actually be part of your aesthetic. So, display that collection in a cabinet, on a large shelf, or anywhere in your home.
Need to Know
Displaying your collected items is not only great for the nostalgiacore aesthetic, but it's a fun way to lean into the maximalism trend as well.
Color Your Home With Nostalgia
Think of the homes you frequented as a child. Maybe your mom rocked the yellow kitchen or your grandmother had the trendy pink bathroom tile. These color details (and the way we felt about them) stick with us long past childhood.
Find a way to bring these color details into your home today. Paint your walls the same color as your childhood bedroom. Hang curtains in the same shade of orange your aunt had. Paint your front door in the candy-apple red your neighbors had when you were growing up. Lean into the hues that colored your childhood and let them bring joy to your home and your life.
Find Inspiration In Your Childhood Bedroom
There may be things about your childhood that weren't perfect, but chances are there was at least one thing in your childhood bedroom that you loved. Whether it was the bedding, the carpet, or the posters on your wall, tap into those vibes and bring them into your current home to create a space your younger self would adore.
Add Some Cozy Details
Crochet blankets, homemade quilts, and floral pillows marked many of our childhoods. Our moms had billowy curtains in the kitchen, and our grandmothers had no less than 10 baskets in their house. Those cozy details give us all the comforting feeling we've been looking for since childhood ended. So bring them back in your own way and drench your home in nostalgic cheer.
Try a Gallery Wall
You don't have to decorate every inch of your home exactly like your childhood bedroom to embrace the nostalgiacore aesthetic. Instead, find a way to make those past details a part of your present in a new way.
If you loved the posters, collections, and homemade art of your childhood experience, honor them with a modern gallery wall. You'll still be able to appreciate the collection of all your comforting pieces without compromising your current style or your precious space.
Don't Forget the Kitchen
How much of your childhood took place in the kitchen? Now is your chance to bring those vibes into your current home and find all the comfort that a morning at the breakfast table used to bring you. Here are a few ways to bring nostalgiacore to your kitchen design.
Swap cool-tone colors with warm shades like cream, yellow, tan, and brown.
Add some retro appliances to your countertops.
Have nostalgic foods in your pantry.
Thrift some of the trendy kitchen decor items from your childhood.
Look for dishes and glasses that sport some of the classic characters and icons of your childhood.
Relive Childhood in the Best Way
We love that nostalgiacore gives us the chance to relive childhood, make our home feel truly comforting, and practice self-care in our decorating. So choose the decor items that speak to your inner child and make your home feel like a true safe space to escape from the parts of life you don't have control over.