Classy and Edgy Combine
Armani dresses are far from ordinary, known for their elegance and high style that seamlessly combines classiness with edginess. Both Georgio and Emporio Armani have a wide range of black dress styles in their collections that are sure to the meet the needs of women who demand a fashionable dress that cannot be found anywhere else. This Giorgio Armani dress on the runway during Milan Fashion Week looks layered and ready for anything.
Add Some Color
Giorgio Armani adds a splash of color (two colors, to be exact) to this sleeveless, sheer black dress. The bursts of red and blue make this a fun dress for a party, night out, or even some summer holiday festivities. Be sure to accessorize with red or blue.
Details Make the Difference
The decorative detail on the bodice of this Armani design makes this little black dress something special. While the shape is simple, the fabric and embellishments are anything but, yet it somehow manages to look classy rather than over-the-top. It's versatile enough to be worn for a night out on the town or to a special event.
Sparkling Sensation
Sometimes, a girl just needs a little sparkle on her dress to brighten up her evening. This dress fits the bill without looking too 'fairy-tale princess.' In true Armani fashion, this style maintains a bit of edge even amidst all the shimmer. Flaming red ruffles at the bottom and a fitted, strapless bodice make sure of that.
Surprising Touches
Want a head-turning dress? This Armani design is the answer, and it gives the illusion of being incomplete at the shoulder. The sheer black overlay atop the red fabric would've been enough to turn heads on its own, but the one-half strap design takes it to a whole new level.
Haute Couture
More Details
Fringe, a modest cut, and an all-black dress combine for a chic, modern flapper vibe. Though it's sleeveless and could work for events during the summer, it's easy to dress up with a shawl, cardigan, blazer, or winter coat later in the year.
Evening Wear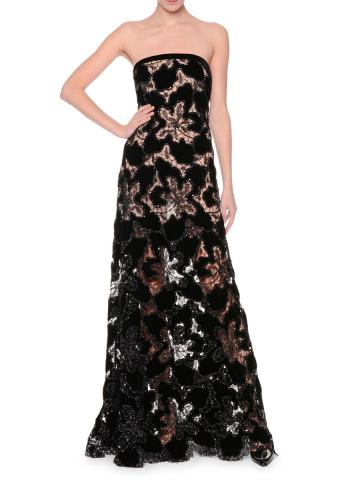 More Details
This Armani dress is long but that doesn't mean you can't show off your gorgeous legs. The peekaboo fabric is sure to garner tons of attention as people may wonder just how much skin you're actually putting on display. This particular style isn't for a shy wallflower, but if you love when your clothes make a statement and encourage people to talk, this one's for you.
Strapless Style
Strapless, black with big sparkling splashes of unapologetic red, and embellished with a couple of large tassels, this dress is rocking the signature Armani style. It's perfect for a special event or party. While black dresses are often blank slates that require accessories to really make a statement, Armani's styles often require very little jewelry and understated handbags and shoes.