If you have an enclosed stairway in your home, it's like having an entire extra room to style. Make your stairway walls look timeless, polished, and coordinated with the rest of your home for effortless style. From wall coverings to photo galleries, the right decor for your stair walls gives subtle support to the rest of your home's design.
Wallpaper Is Stylish & Fun
You can treat the walls of your stairwell like one big accent wall in your home. It's a chance to have a little fun and step outside of your usual decorating style. A quirky or bold wallpaper gives your stairwell interest, color, and a design detail that's true to your signature style. Look for vertical lines or patterns to lengthen your stairwell or choose subtle, textured designs for a more neutral look.
A Maximalist Gallery Wall Is On Trend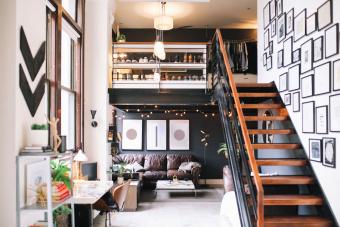 If you prefer to style your stairwell with actual wall decor, a gallery wall is an on-trend way to bring style to the space. For a maximalist look, plan for a large gallery wall overflowing with staggered frames in all shapes, sizes, and materials. Create cohesiveness with similar photos, like all black and white or all nature inspired pieces. A stairwell gallery wall is also a great way to display your beloved family photos all in one place in a designer fashion.
Find a Place for Plants
Designers often include plants - real or otherwise - in their designs to bring color, texture, and a bit of life and movement to the space. This designer hack also applies to your stairwell. Find a way to include plant life in your stairwell to harmonize the space and add vibrancy. Try adding plants in these ways:
Tall, slender trees on the outer edge of your stairs.
Wall-mounted pots full of draping plants or succulents.
A large potted plant in the corner of a landing.
A collection of large potted plants beneath the stairwell.
Plants and vases full of florals on wall-mounted shelving.
Faux or real vines wrapped around your banister and railings.
Enhance Your Home's Vintage Details
If you live in an older home with a staircase that could tell a hundred stories, lean into those vintage qualities with your decor. Use the stairwell to show off a collection of vintage pieces like collected frames, ceramics, or posters. An intentional vintage detail on your staircase gives your home a little extra character and lot of extra style.
Panel Molding Is Elegant & Timeless
You might prefer trending vertical slats or the timeless look of wainscoting. Either way, panel molding adds depth to your stairwell in an elegant way that will never truly go out of style. This is a thoughtful way to decorate your staircase in an understated style that outlasts all the changing trends.
Make Art Oversized
If you prefer the look of thoughtfully collected art, your staircase is a beautiful place to showcase your excellent taste. Stagger three to five art pieces, depending on the size of your wall, that feel cohesive. Choose slender, tall pieces to make the most of your space and avoid hanging them in a straight pattern. Art on a stairway wall looks best when it's balanced with the height of the steps themselves.
Use Sconces To Light the Way With Style
Lighting can make or break a room, and your stairwell is just as important as any other room when it comes to choosing the right lighting. Sconces are a stylish way to illuminate your staircase since they help you avoid the clutter of table lamps without relying entirely on builder-grade ceiling mounts. Sconces look expensive, high end, and streamlined without compromising your lighting budget.
Add Botanicals for Subtle Boho Vibes
If you're looking for subtle, yet stylish, filler for the frames in your stairwell, botanicals are a boho option with a timeless quality. These sorts of prints are easy to find and complement a long list of styles. Botanical prints can be bohemian, classic, vintage, farmhouse, eclectic, cottagecore, and rustic.
Don't Forget Under-Stair Decor
If the staircase wall looks beautifully designed and the space beneath your staircase looks like an afterthought, the entire scheme will feel out of balance. Bring some personality and cohesive decor to your under-stair space so the rest of your staircase feels like a complete design.
Add a small console table for storage and decorative purposes.
Layer decorative items like ceramics, sculptures, books, and candles.
Bring life to the space with plants.
Tuck in a bench or long storage ottoman for texture and function.
Add wall decor or hooks to decoratively display coats and bags.
Step Up Your Staircase Decor
The key to a beautifully decorated stairwell is to choose one major decorative detail and stick to just that. Whether it's paneling, wallpaper, or a gallery wall, choosing one detail to focus on will help you avoid cluttering the space with too many visual points. Once you've landed on your preferred decor, you can add your personal style and enjoy the expression of your taste every time you go up or down the stairs.