From practical storage to decorative flair, your bathroom shelves are an opportunity to showcase your style and personality. If you're unsure how to style your bathroom shelves or how to make the shelving as beautiful as it is functional, these tips will help you decorate your bathroom like a pro. Reach for decor you love and items that serve a purpose for a beautifully decorated bathroom shelf that enhances the style of your space rather than distracting from it.
Use Statement Pieces on a Ledge Shelf
If you have a ledge shelf in your bathroom - most likely behind a toilet or near a shower - you can use this space strictly for decor. Choose statement pieces like stunning ceramics and vases or artistic sculptures to accent your personal style and highlight your bathroom's color palette.
Make a Small Space Work
If your bathroom space is on the smaller side, utilize as much wall space as you can and look for ways to maximize the storage space there. A cubby shelf that mimics built-ins will aesthetically store within reach your toiletries, towels, decorative elements, and everything else you need.
Use Glass Shelving in a Recess
Use a Ladder Shelf
A leaning ladder shelf fits so well in a spa aesthetic for your bathroom. Use this to showcase your decor, keep your skincare and toiletry items within reach, and even hang your towels up between uses. This option takes up a bit more floor space, but it adds so much style to the room.
Add Multiple Recesses
If you don't have floor space for freestanding shelves or you're trying to avoid a large collection of floating units, recesses are the way to go. One in the shower is functional, one over the toilet showcases decor, and one over the sink keeps your favorite skincare items within reach in an aesthetic way.
Try a Long, Shallow Shelf
If you call yourself a maximalist or you love the collected look of eclectic interiors, this bathroom style hack is perfect for you. Install a long, shallow shelf across the length of one bathroom wall. One that runs behind your toilet and above your vanity is preferable. Layer on art pieces, stylish product bottles, small decor, and a few plants for an intentional and collected look.
Bring in All the Baskets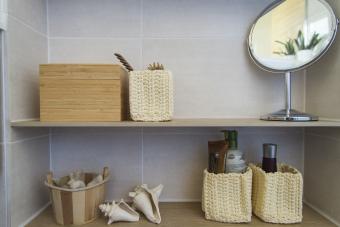 Baskets and bins are your best friends when you need storage that looks beautiful. Tuck away your spare toilet paper, hair styling tools, makeup, and toiletries with a few decorative baskets that match your style. Look for a mix of textures that complement the colors in your bathroom design.
Choose Shelving With Hooks
If you're looking for the right shelving for your bathroom, before you can even start thinking about decor, look for shelves that serve other functional purposes. Hooks beneath your shelving are perfect for maximizing space since they allow you to store towels, hand towels, loofas, and other bathroom necessities.
Style Shelves With Elegance
The main thing you want to avoid when styling your bathroom shelves is clutter. Instead, opt for elegance where ever you can. Glass jars, beautiful perfume bottles, stylish storage baskets, and enough space to keep it feeling open are wonderful starting points. Pop in some art pieces, florals, or decorative trinkets where they would naturally fit and choose a neutral color scheme to keep the space simple and sophisticated.
Roll Your Towels
The tiniest details matter when you're decorating the shelves in your bathroom, even how you display your towels. Skip the sloppy stacked look and roll your towels instead. You can still stack them pyramid-style if needed, but this look is much more elegant and less distracting than a leaning tower of towels.
Introduce Some Spa Vibes
When you think of beautiful bathrooms, spa vibes certainly come to mind. Give your bathroom the high-end upgrade it's begging for with your shelving choices. Small, free-standing shelves with thoughtful decor and simple styling make your bathroom feel like a luxury escape. Stick to wooden shelving to enhance the natural spa theme and display your products in matching glass bottles for a cohesive look.
Skip the Product Packaging
If you only do one thing to upgrade the decor in your bathroom, it must be this designer hack. Swap all of your typical product packaging - think hand soap, lotion, and cotton swabs - and place your necessities in beautiful containers that fit your style. Whether you choose glass jars, wooden bowls, or metal canisters, make a habit of placing all of your most-used bathroom items in a beautiful container whenever you need to replenish.
Amp Up the Vintage Vibes
There's something so elegant about vintage bathroom details. The style is welcoming, regal, and easy to achieve. Add a few vintage or collected pieces to your bathroom shelf decor to create character within the space and make it feel less like a utility space in your home.
Try a Free-Standing Shelf
Your bathroom space may be small, but you can probably include a small free-standing shelf if you need some additional storage. You can make this a beautiful accent piece in your bathroom and treat it as an opportunity to include a bold accent color, additional texture, vintage flair, or a functional space for all your bathroom products.
Use a Rolling Cart
If you love the look and luxury of a tub-side table or shelf but you don't like having it there all the time, it's time to invest in a rolling cart. You can go ultra-modern or antique, but the point is to find a cart that's roughly the same height as your tub. Use this to display florals and luxury items when guests are over or use it when you're giving the kids a bath. Either way, you can tuck it into a small linen closet or behind a door when it's not in use to keep it out of sight and free up space in your bathroom.
Style Your Bathroom Shelves With Confidence
The main thing to keep in mind when you're refreshing and redecorating your bathroom is that you want the space to reflect your style while meeting your needs. Choose shelving that is large enough to hold your items while sporting a style that aligns with your home. When the shelving in your bathroom is both functional and beautiful, you'll feel confident in your styling choices.