Cozy vibes, autumn colors, and holiday-inspired designs are just a few details that make your November nails shine. Discover the latest nail trends for the season and effortlessly rock all of your end-of-year events with elegance and style.
Blend Neutrals for Transitional November Nails
More Details
While you're between Halloween nails and your Christmas manicure, try a simple look for your November style. Black and white create a trendy color block when paired with a warm neutral like beige, tan, or brown. With so many neutrals on your nails, you'll look effortlessly fashionable at every event.
Wine Red Is a Classy November Nail Color
More Details
As you're easing into the more vibrant reds of the holiday season, dedicate your November manicure to the deep wine red of autumn. A glossy maroon or burgundy nail looks just as chic during Thanksgiving dinner as it does shopping for Christmas gifts.
Try Cute Hot Chocolate Nails
Milk chocolate nails with a frosty glazed top coat are on trend for fall. Neutral enough to complement any outfit, hot chocolate nails let everyone know you're a style icon.
Mix Trends for Stylish November Vibes
More Details
Classic plaid, girly glitter, and on-trend matte nails are made for each other. Combine the current nail trends for a look that has all the shine, print, and texture you need for your most exciting manicure of the year.
Quick Tip
Pair prints, colors, and top coats that fit the holiday season for festive November nails.
Feature White Pumpkins for Cute Nails
More Details
As we're easing out of the more obvious fall nail looks, you may be steering away from orange designs. But you can still include seasonal pumpkins in a creamy white shade. Doing this gives you an elegant, soft look that easily transitions into holiday style.
Add Chrome to Your Simple November Nails
More Details
From neutrals to your favorite autumn color, a chrome top coat brings your simple November nail look up a level. This trendy nail finish makes almost any color look softer and more elegant.
Try Dark French Tips
More Details
If you already plan on rocking a rich or dark nail color this November, ask for an almond french tip instead of a traditional manicure. This look introduces the color in a more subtle way and feels sophisticated for any holiday celebration.
Feature a Gold Drip for November Birthday Nails
More Details
A birthday manicure is a must, and this trendy nail feature is a stylish way to celebrate. Ask for a gold drip along your cuticle to add a bit of birthday flair to any polish color or nail design.
Gray Is Simple Yet Stylish
If your event calendar is full this November and you're trying to balance it with your work meeting schedule, gray just makes sense for your manicure. From family gatherings and office parties to dates and formal events, a simple gray polish is effortless and keeps the spotlight on your personal style.
Helpful Hack
Choose a matte gray for a trendy casual look, a traditional gloss top coat for a formal style, or add a bit of glitter to dress up your manicure.
Champagne Nails Complete Your November Look
Your silk skirt and sweater combo is begging for this nail look. Champagne nails have all the gleaming metallic vibes of trending fall style with a touch of warmth for the autumn seaosn.
Dark Navy Nails Are Dreamy
More Details
This isn't your typical navy manicure. This is the darkest shade of navy possible without crossing over into black. It's elegant, dreamy, and perfectly suited to the deep colors you might be wearing this November.
Quick Tip
Add glitter or gold details to your navy nails to give them something extra.
Make Your Manicure Mauve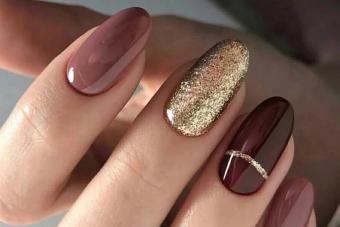 More Details
Muted colors just make sense for fall fashion. A deep, soft shade of mauve is the perfect blend of feminine and subtle. Look for a dark pink with a slight tint of brown to get the look.
Pistachio Green Stands Out in November
More Details
While everyone else is leaning into forest green or sporting their olive green gloss, you can stand out with a more vibrant version of the hue. Pistachio green still makes sense for fall but feels more bold than the traditional muted or dark shades of the season.
Need to Know
Pistachio green is brighter and warmer than other fall shades of green. You can recognize it by its slightly yellow tint.
Stay on Trend With Tortoise Shell
More Details
Tortoise shell is a classic print all year round, but the colors of the pattern just make sense this time of year. Pair this nail design with your chic sense of style for a look that's all around Insta-worthy.
Pick a Pretty Periwinkle
More Details
We love the warmth of traditional fall colors, but we also love an opportunity to do the unexpected. Periwinkle blue still fits in with the season and upcoming holidays, but it will also help your nails make a serious statement among warmer and darker manicures this November.
Make a Statement This November
Your November nails can be just as creative as your Halloween nails and just as glamorous as your Christmas nails will be. Just because this month often acts as the holiday transition period, that doesn't mean you can't show off your stylish side all month long.
Can't decide on a nail idea? Check out these inspiring Thanksgiving nail designs!