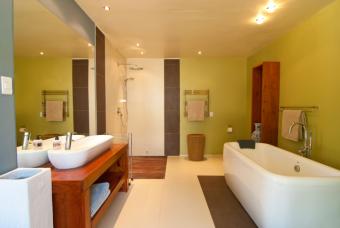 Bathroom hardware or more appropriately, bathroom fixtures, play an important role in creating the right look for your bathroom design. With so many choices available, these selections for your bathroom can be fun and easy if you follow a few design tips.
8 Tips for Bathroom Hardware Selections
Bathroom fixtures are all about the faucets for sinks, showers and tubs, towel racks, rings and bars, toilet paper holders, soap dispensers and more. A few tips can help you make these decisions easier and faster.
Tip #1 Choose Safe and Environmentally Friendly Faucets
Bathroom faucets include those designed for sinks and showers. Both have three things that are important to understand before setting off to your local hardware store or shopping online.
Install Only Certified Lead Free Faucets
Legally, all faucets installed in the U.S. and Canada must be certified and lead free, but there are many ways to purchase non-certified bathroom faucets and hardware online. The danger is purchasing uncertified faucets and installing these yourself.
Unknowingly, you could purchase faucets that contain lead or other harmful elements when buying online from manufacturers outside the U.S. that don't adhere to certification manufacturing principles. Faucets sold in U.S. stores like Lowe's, Home Depot and other hardware stores as well as online stores must sell certified faucets. If the product isn't certified, then you put yourself and your family in danger. Be sure to check for this certification and guarantee that the faucet is lead-free.
Look for NSF Seal of Certification
The National Sanitation Foundation (NSF) oversees the "certification of plumbing products and materials". It also "helps confirm that they meet applicable American or international standards for a particular use".
The NSF states, "Faucets and plumbing products intended for contact with drinking water should be tested and certified to NSF/ANSI Standard 61: Drinking Water System Components." The American National Standard ensures that these products have a limited amount of impurities.
Look for the certification mark on the product, such as "NSF 61" (drinking water components) or "NSF pw" (drinking water components and others).
Conserve Water by Purchasing WaterSense Products
You may also want to purchase a WaterSense label faucet. This type of faucet reduces 30% or more of water usage in a bathroom.
According to the EPA (Environmental Protection Agency) replacing old bathroom faucets can save home owners around 700 gallons of water per year. Look for this label to conserve your water use.
Tip #2 Overall Hardware Style Scheme
The style of your home design will determine how you intend to decorate your bathroom. This will in turn dictate the style of bathroom fixtures that will go best with your creation. The goal is to design a cohesive bathroom décor. When you select the appropriate hardware/fixtures that follow the style of your interior then you can be assured of a beautiful bathroom design that looks as though it belongs together.
Traditional, Contemporary, and Transitional Styles
Traditional is a popular choice for bathroom fixtures since they will go with most home designs. Transitional and contemporary styles better fit bathrooms of these specific architectural home styles. Transitional is a blend of traditional and contemporary and has simple curved lines that flow in an elegant visual movement.
Bathrooms With Different Fixture Styles

Traditional

Transitional

Contemporary
Matching Fixtures
Some homeowners don't like the uniform look of matched hardware while others would never consider mixing styles. Most interior designers prefer the uniform look that matching fixtures give so that the focal point of the room design isn't interrupted. For homeowners, this is considered a personal choice; however, the design rule of thumb is regardless of style, you want to use the same metal and finish for all hardware (fixtures).
Use Budget to Eliminate Choices
When you make choices, you need to consider how the entire bathroom will look with these fixtures in place. For most homeowners, these choices ultimately are dictated by budget. In most cases, the budget serves as a tool for eliminating designs that are out of the price range.
Tip #3 Bathroom Faucet Styles
The style of your bathroom sink will help you to eliminate specific faucets that are simply too high or the wrong style. For example, there are different faucet design considerations for a vessel style sink than those for an under the counter mounted sink that has a traditional faucet and two levers or knobs.
Sink Faucet Categories
You can use the faucet style categories to help you in deciding if you want contemporary, traditional or transitional.
Vessel Faucets Styles
A vessel facet is typically taller than traditional sink faucets. These are usually in the waterfall or spout style. Some vessel sinks come with a faucet designed just for that style of sink. This eliminate the need to match a faucet to the sink design.
Shower and Tub Faucets
It's best to match the tub/shower faucet with the sink faucet. Tub and shower knobs and controls should be mounted 33" measured from the floor. The controls should be accessible from outside and inside the tub/shower, so be sure you're choosing hardware that can fulfill this requirement.
Showerhead Styles
If you prefer a special showerhead, such as a rain showerhead, then stick with the same finish so it will match the rest of the tub hardware. The showerhead should clear the tallest person's height, so be sure you measure before you buy and install it.
Tip #4 Fixture Metals and Finishes
It's best to stick with the same type of finish for all the bathroom hardware. Most people also choose to go with the same style. These two factors ensure your bathroom has a designer look and a cohesive design.
However, some people prefer a more eclectic look and often go with a mix of styles in the same finish. This is a purely personal choice. If you decide this is your personal style, be sure to keep the style mix balanced. Otherwise, the eclectic look will elude your design leaving only a hodgepodge look that doesn't work.
Popular Fixture/Hardware Metal and Finishes
Most metal finishes used in bathroom fixtures are available in brushed, satin, polished, antiqued and satin. The metal finishes can be high-end expensive solid metals or plated metals known as PVD (Physical Vapor Deposition) coating of thin layers of metals, such as aluminum, chromium, titanium, and other metals.
Tip #5 Towel Racks, Rings, or Bars
The number one rule for placing towel racks, rings, or bars is that they should be near the bathroom fixtures, such as sink and tub/shower. This ensures the towels are conveniently accessible whenever these two areas area used. If you have more than one sink or one vanity area, be sure to install a towel bar or ring for each sink area. This way you'll have easy access to a towel when you need it. Measure the space before you buy so you can choose the right size before you attempt to install it.
Tip #6 Toilet Paper Holders
The toliet paper holder is usually a necessity that isn't given much thought other than the finish.
Styles
Go with the simple traditional style for a freestanding toilet holder. For smaller bathrooms, you might prefer an over the toilet tank holder that also has room for a second roll in reserve.
Where to Install
To install a wall mounted toilet paper holder, the National Kitchen and Bath Association (NKBA) advises installing 26" from the floor along a wall beside the toilet. Make sure the hardware you choose will fit in that space.
Tip #7 Grab Bars for Toilets, Showers, and Bathtubs
The best grab bar is metal, although many substantial bars are made of plastic. Choose options that color-coordinate with your toilet and shower space if you are going with a plastic option. You can use the ADA (American Disabilities Act) guidelines for disabled individuals as a guide for your home bathroom to help determine where and how to install these aids. The size(s) you choose will depend on the measurements for installation in your home.
Tip #8 Options for Soap and Toothbrushes
The soap dish and toothbrush holder can either be wall mounted styles or ones that are placed on top of the countertop near the sink. The advantage of a countertop soap dish or toothbrush holder is that they can be changed out frequently to accommodate redecorating.
The advantage of a wall mount sink soap dispenser or a toothbrush holder is they both save valuable countertop space. A tub or shower soap dish can be a niche created by tile work, ceramic, or metal wall mount style.
Bathroom Hardware Tips Save Time and Money
These tips for bathroom hardware can save you time and money and guide you to making the best choices for your bathroom design. Selecting the best style for your home interior means you'll enjoy the finished look for years to come.