An authentic Quaker lace tablecloth is a popular item ideal for a special dinner. This tablecloth is not just beautiful, but also very durable.
History of the Quaker Lace Tablecloth
In 1894, Joseph H. Bromley (Philadelphia, PA) founded a lace manufacturing company, Lehigh Manufacturing Company and in 1911 changed the name to Quaker Lace Company. The tablecloths were machine-made and highly prized. The company enjoyed 100 years of operation as the leader in machine-made lace tablecloths, which it began making in 1932. The tablecloths were in such demand that after World War II the company changed its focus to only producing their famous lace tablecloths. One of the best known customers was the White House in the 1950s. However, in 1993, it was bankrupt and subsequently liquidated.
Later, a Lorraine Linens bought the rights to the Quaker Lace name and patterns. The company attempted to continue the legacy, but in 2007, it was forced to file for bankruptcy. The formality of family dinners has disappeared in the modern world. Special occasions may see the finer linens coming out of the buffet or linen closet. With a diminished need for lace tablecloths, the original patterns have slipped into decline.
Popular Patterns
The elegant designs offered by the Quaker Lace tablecloths were ideal when formal dining was premium in most households. This dining experience always included a lace tablecloth. There were many patterns to choose from a few included:
White House: This pattern became very popular when it was used in the White House during the Eisenhower era. This pattern was considered the highest quality produced by the company.
Gardenia: This floral pattern was heavier (thicker) than many of the other lace tablecloths produced by the company.
Fern with Buttonhole border: The pattern features elegant fern frond clusters and an oval border design within another oval in the center. This design is less formal than the rose and floral patterns.
Rose florals: There were several rose theme patterns that revealed intricate designs flowing with an abundance of roses and other motifs.
Barcelona: This pattern is a combination of florals and scroll patterns.
Florals: Many of the florals also depicted leaves and often featured a Picot Edge (loops of threads).
Decorating With Quaker Lace Tablecloths
The eras of formal dining helped to usher in the popularity of the tablecloths. Less expensive than handmade lace, the machine-made lace tablecloths meant more people could afford to achieve that desired elegant dining look. Another advantage of the machine-made lace tablecloths was their durability. Quaker Lace tablecloths could withstand numerous machine washings.
Formal Ambience
As formalities began to decline to give over to casual lifestyles, the once daily use of lace tablecloths was relegated to special occasions, such as holidays, anniversaries, and special dinner parties. You can use a lace tablecloth on your dining table any time you wish. If you're trying to follow a specific period style or simply want to create a more formal ambience, you can place one of these tablecloths over your dining table for an instant transformation.
You can also purchase smaller tablecloths to cover occasional or side tables to dress up a living room or bedroom as an elegant home accent. Allow the hemline to drape to the floor for the best look.
Popular Décor Uses
There are many ways you can use these charming tablecloths with various home decors and design styles. You might decide to purchase one of these vintage tablecloths for a perfect outdoor dinner, summer luncheon, or a tea party.
Victorian: This ornate and formal period style is ideal for these tablecloths. It was one of the time frames when the original tablecloths were cherished. Put it on a dining room table.

Tudor: This style, especially the revival period will welcome this lace tablecloth as a natural extension of the décor.
Americana décor: A beautiful lace tablecloth goes well with this style. Many country décors feature lace and ruffles and would be incomplete without a Quaker Lace tablecloth. Side or sitting tables would look lovely in it.
Arts and Crafts: This style combines wood finishes and earth tone colors that are softened by a lace tablecloth in the dining area.
English or French country: Another country style often features fabrics with rosebuds or roses, along with lace doilies and tablecloths.
Contemporary designs: If you're looking for an eye-popping table setting, go with lace. You can also purchase one of these tablecloths and use as an overlay topper with a solid-colored tablecloth underneath to highlight the lace pattern. Many people use this effect for Christmas or other other holiday meals.
Style contrast: If your design style is rustic, consider using an elegant lace tablecloth in your kitche or even on your side table to provide startling contrast. This can be a very effective design tactic that will add a new dimension and touch of nostalgia to your dining experience.
Where to Shop
Venues for purchasing the tablecloths beyond local yard and estate sales, consignment stores, and flea markets include: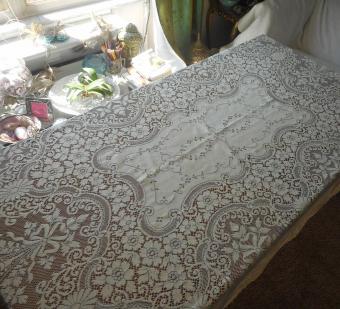 Vintage Textiles: You can find a link to their eBay store but you'll need to check regularly for newly added tablecloths.
WorthPoint is a research website that you can use to look up the price of a specific item that's been sold. Many of the items listed were sold on eBay; use it to know if you are getting a good deal on your tablecloth.
Second Life for Elegant Décor
You can find vintage Quaker Lace tablecloths and give them a second life in your home décor. Durable and timeless designs mean you may even decide to bequeath your tablecloth as an heirloom for the next generation to enjoy.