Victoria Beckham in New York City
Just as there is an endless fascination with celebrities, so is there with celebrity handbags. Here, Victoria Beckham photographed in midtown New York City. Victoria Beckham is only one of numerous celebrities who love Hermès Birkin bags. Many celebrities love the chic Birkin bags.
Alessandra Ambrosio Carries a Hermès Birkin Handbag
Brazilian-American model, actress, Alessandra Ambrosio is only one of numerous celebrities who love their Hermès Birkin bags. The Birkin bag has a diverse range of other celebrities who adore the luxurious handbag that includes Julia Roberts, Heidi Klum, Britney Spears, Martha Stewart, Star Jones, Nicky Hilton, and Kate Moss. Each has been spotted carrying the pricey Birkin bag.
Selena Gomez and Green Louis Vuitton
Singer/actress Selena Gomez is seen wearing a Louis Vuitton green Coussin PM bag on her shoulder. The Coussin PM bag was one of the stars from the 2021 Spring-Summer fashion show. Donned with her face mask, Gomez wears the puffy lamb, monogram-embossed, neon green purse with the wide strap. The chain strap is allowed to drape below the purse for a chic style.
Tory Burch Carrying Alastair Bag
Designer Tory Burch was photographed in attendance of the New York premiere of the movie Nocturnal Animals. She wore her Alastair convertible harness leather bag that was part of her Gemini Collection. She created the collection to reflect her astrological sign of Gemini and celebrate the dual nature of women. The slouchy hobo bag pays fashion homage to the 1970s saddlebag style.
Sonia Lyson Carrying Louis Vuitton Dauphine MM Bag
German influencer Sonia Lyson carries a Louis Vuitton Dauphine MM handbag that is part of the Since 1854 Collection. The Jacquard woven monogram flowers and 1854 pattern is more striking when paired with matching Louis Vuitton shoes like the ones Sonia wears.
Jet Set Tote by Michael Kors
A Michael Kors tote is guaranteed to get you noticed, like the celebrities who wear and carry the bag. This Jet Set Saffiano Leather East/West top zip tote in claret makes a fashion statement. This tote has plenty of storage capacity with MK signature metal feet to protect the bottom of your bag.
Alexandra Lapp Go Travel and Go Style
Model and fashion blogger Alexandra Lapp is seen carrying this stylish powder blue Hermès Birkin travel bag. Her plaid white and blue coat matches her Birkin bag for a stunning ensemble.
Michael Kors Bradshaw Messenger Bag
Orange Croc Hermès Birkin Bag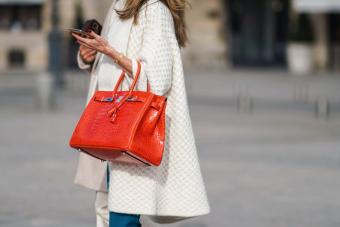 A popular bag choice of many celebrities, the Hermès croc Birkin bag. This orange croc Birkin is highly versatile and can be worn with a casual outfit or a more formal one.
Emy Venturini Carries Gucci Handbag
Gucci is a favorite celebrity handbag designer. With their classic styling, Gucci purses are incredibly versatile. Emy Venturini, founder of Ipsilon Paris, a popular streetwear brand, is shown here with a large iconic Gucci brown monogram canvas bag.
Tory Burch Carrying Her Lee Radziwill Petite Bag
Tory Burch is pictured carrying her iconic design, the Lee Radziwill petite bag. The photo was taken during the 2019 Vanity Fair Best Dressed List held at L'Avenue at Saks in New York City.
Patricia Wirschke Wears a Chanel Gabrille Bag
Fashion influencer and CEO of high10art, Patricia Wirschke, is photographed wearing a Chanel Gabrielle. The Gabrielle was named for founder Gabrielle Bonheur "Coco" Chanel and designed by Karl Lagerfeld.
Dagmara Jarzynka Carries a Tory Burch Bag
Fashion influencer Dagmara Jarzynka is photographed carrying a stylish Tory Burch bag. The signature lock and key design is iconic of the Lee Radziwill petite bag designs.
Swantje Soemmer Carries a Tory Burch Bag
Fashion blogger Swantje Soemmer based in Berlin, Germany carries a Lee Radziwill petite bag by Tory Burch. The Italian leather purse features the signature hardware of lock and key.
Anya Shevchenko With YSL Clutch
Fashion and runway model, Instagram influencer, Anya Shevchenko carries a YSL black clutch. The YSL monogram clutch in quilted grain De Poudre embossed leather is a great choice for business daily or evening wear.
Celebrity handbags reflect the current fashion trends. You can get a sense of the latest fashionable handbags when you look to see which bags are popular with celebrities.