Coffee tables are a great design tool to give your room greater depth, texture, and color. You can repeat color schemes, soften hard lines, and add unexpected elements. Design your tabletop around the style of the coffee table for a cohesive look to match the rest of your room décor.
10 Coffee Table Decorations
A centerpiece for a coffee table isn't the only way to decorate this piece of furniture. You can add a floral bouquet or a potted fern, try something different that is as unique as the coffee table design, or dress up a plain coffee table with a tablescape that's not expected.
#1 Country Home
This traditional room setting features a decorative wood table that's highlighted with a fun and unexpected tablescape. The main feature in this tabletop design is a Victorian house birdcage, which holds a few moss topiary birds, and a wood carved roadster repeats the feeling of antiquity. A ceramic pot filled with a trailing plant and a stack of books complete this tablescape.
This design is easy to re-create. If you don't have a Victorian house birdcage, you can use a large birdcage or three smaller varying height birdcages. Fill the cage with moss topiaries or houseplants. You may prefer to add decorative balls or a mixture of items to complete your personal style.
#2 White Obelisks With a Modern Touch
This gold coffee table with a granite top has the perfect centerpiece that combines traditional design with modern. The pair of white marble obelisks break up the black tabletop and three black vases in varying in sizes and shapes.
If your coffee table has a stone top, then you can use this technique to repeat the stone element and create drama with the contrasting stark white against black, or vice versa. The arrangement and accessories pair perfectly with a luxuriously styled room.
#3 Zen Bronze Effect
Introduce a little Zen into a modern décor with this modern centerpiece. Repurpose a woven placemat angled just right. Next, place two antiqued bronze vases that are rectangle in shape and different sizes. The final touch is to place sprigs of different colored berries, such as red, gold, and silver into the vases.
You can take this idea and modify it to suit any décor style. Select two vases of different heights with the same finish and use a decorative placemat to anchor them to coffee table. Add sprigs of berries, leaves, or flowers; just remember that less is more when creating a Zen tablescape.
#4 Stunning White and Turquoise Blue
Add a splash of color and create a focal point in your room with a stunning floral arrangement and ceramic vases. This design uses height and color to create a dynamic and pleasing table arrangement. The glass top coffee table features four glass squares with wood strip dividers between them. The glass is used to reflect and double the colors used. The bottom shelf is left bare to further accentuate the tablescape.
Three objects are used in this tablescape:
The first is an unusually shaped white ceramic vase with turquoise and white dried hydrangeas and other flowers. White twigs and dried seed pod sprigs emerge from the top of the design adding greater height to the vase arrangement.
The second element is a turquoise decorative dragon motif vase that matches the flowers in the arrangement. Selecting a vase that isn't as tall as the white vase and a step down from the colorful bouquet draws attention and creates a movement in the design.
The third element is located on the other side of the two vases -- two books stacked in an angular display.
This three elements create interest, movement, color, and texture - all the things you want in a coffee table arrangement. The concepts can be used in numerous rooms with different décor schemes.
#5 White Sea Urchin Vase Designs
This arrangement creates a stark white contrast with the distressed espresso-colored coffee table.
Two different sized and shaped vases mimic the naturally occurring sea urchins that are commonly known as echinoids. The urchin's globular shape and symmetrical design are captured perfectly in these two vases.
A white bowl stylized like a leaf adds another height and shape to the trio.
The final touch is elegant towering white orchid supported by a square glass vase that contains the botanical medium along with black florist rocks.
If you have a dark or espresso coffee table and a love for the sea, you can recreate this look. Don't have a green thumb? Simply use a silk orchid for an everlasting beautiful arrangement.
#6 Multi-Level Arrangements
For a coffee table like this one that has a bottom shelf, you can do quite a few different arrangements of objects to make it a showcase of personal collections, interests, and art objects. The glass coffee table allows for this kind of display since it features a glass top and bottom shelf.
A square wire basket is made up of wire-encased frosty glass rounds and supports a display of green apples.
The frosted glass theme is repeated in a tall vase that holds faux pears and leaves.
A brass lid apothecary jar sits beside it and holds various seashells.
On the bottom shelf are several seashell display on top of the glass along with a small plant rests on top of a book.
The coffee table's glass bottom shelf allows the gold pattern in the rug to become part of the overall table design for a unique and successful design effect.
If you have a glass coffee table, consider what's underneath. Is it a decorative colorful rug or hardwood floors? Add objects that repeat the colors and/or pattern designs in an area rug for a better design.
#7 Objects Repeat Table Design Elements
This oval glass top coffee table holds a carved Roman style bowl. The carvings in the bowl, as well as the three carved decorative balls it holds, all repeat parts of the table leg designs. The carvings of the coffee table legs are visible through the oval glass top and present a perfect design opportunity to repeat the texture, carvings, and color of the wood.
You can use this idea for other type of glass topped coffee tables. For example, if your table has wrought iron instead of wood legs, you can use various wrought iron objects, such as candle holders, iron basket or iron sculptures. Repeating design elements of other furniture and objects in your décor is a great technique for making a complete design look.
#8 Exotic Centerpiece
For a room that features floral fabrics for focal points, such as throw pillows and draperies, a floral arrangement on the coffee table is too good to pass up. This design boasts a sensual round glass bowl filled with stones. This artificial arrangement uses three large magnolia blossoms, partially opened with their leaves fanning out around them.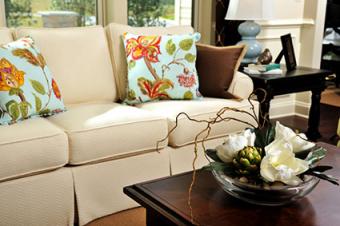 A lone artichoke draws further attention to the floral design, but it's the twisting vine rising out from the stones that captures the imagination and transforms a simple bowl of flowers into a work of art unto itself. You can always recreate this look or create your own look through the types of flowers and other objects you use.
#9 Dramatic Artwork
This modern coffee table features a smoke glass top that appears to be floating above the mirrored column-styled legs. The tablescape is just as dramatic as the other art objects displayed throughout the room.
The pair of natural wood and black X-shaped objects balance the black art display. The black object supported by a black iron frame is a smaller, horizontal item that's similar to two other works of art across from it on the right side of the room. This kind of scaled down repetition of art is an excellent way to draw attention and create movement throughout the room décor.
#10 Luscious Fruit Bowl
Fruit bowls aren't just for dining tables or kitchen counters. Take advantage of a tropical setting with an edible coffee table display. An antique bronze open work bowl is used in this arrangement. You can place pineapples, mangos, pomegranates, pears, bananas, apples and grapes in a large decorative bowl to entice guests to take a bite.
This is a great way to encourage family members to eat healthier. It's also a wonderful spill over from the kitchen or breakfast room to showcase fruits you've grown in your backyard. Look for a bowl that has a similar hue to the coffee table to make the fruit stand out.
Take Design Advantage of Your Coffee Table
You can create a coffee table arrangement that moves beyond flowers, candles, and trays for a fun and exciting addition to your room décor. Add a few items that reflect your personal tastes and lifestyle.