The use of color and elements can be incorporated into your fashion choices to help you take advantage of personal feng shui. The same feng shui principles governing the exterior and interior of your home can be applied to fashion selections. By aligning your clothing and accessories with the element and properties of your kua number, you increase your success and good luck.
Designing Your Wardrobe Using Feng Shui
By using feng shui principles you can ensure that your wardrobe gives you the sensation of well-being. One of the best ways to design your feng shui wardrobe is to use your kua number. This number is derived from your birth year and gender.
Calculate Your Kua Number
You must use a simple formula to calculate your kua number. Add the last two digits of your birth year together until you get a single digit; males should subtract that number from 10 while females should add the number to five. If you end up with double digits again, keep adding them together until you reach a single one; that number will be your kua number.
Use Kua Number to Build Powerful Wardrobe
Find your kua number and the corresponding "best personal growth compass direction" and element in the chart below. You will use these and the specific colors assigned to each to create an appropriate wardrobe though power colors, textures, and patterns.
Kua #1 Water Element
The water element is reflected in the personal expression of fashion with unique clothing that is both long and flowing.
Color Palette
Hues of black and blue fill the water element color palette.
Aqua
Baby blue
Black
Cobalt blue
Midnight blue
Additional Colors
The metal element attracts the water element. Use metal colors such as:
Brass
Copper
Gold
Pewter
Silver
Colors to Avoid
The earth element is destructive to water, so avoid yellows and browns as main fashion colors. The wood element is exhaustive to water and greens should also be avoid.
Fabrics and Patterns
This element can be calm or powerful, passive, and aggressive. These energies can be conveyed by clothing.
Water Element

| Fabrics | Patterns |
| --- | --- |
| Chiffon | Wavy lines |
| Cotton | Curvy lines |
| Crepe | Crescent shapes |
| Lace | Spirals |
| Polyester | Paisley |
| Satin | |
| Silk | |
| Taffeta | |
Styles
The water element has a natural, free-flowing feeling and this should be reflected in the style selections for clothing. Keep in mind when selecting your new wardrobe that long skirts and blousons with long sleeves help convey this element's properties.
Casual Wear
Women: Flowing maxi skirts and poet-style blouses offer a unique outfit. Lace tops with ribbons and embroidered jeans are a hit combination when paired with tooled leather boots with roses. Casual doesn't need to be boring with the water element guiding it; a pair of harem pants and white sandals might be a weekend choice.
Men: Cotton shorts with a tie-dyed shirt and a pair of hemp sandals is part of the unique water element look. A braided leather bracelet and a necklace made from uncut agate tied with rawhide makes the ultimate statement.
Evening Wear
Women: A lace top with long ruffled sleeves and blue floor length skirt trimmed with matching lace makes for a night out; go with sleeveless options for warm evenings in blue. Slingback sandals and a beaded purse complete the ensembles. A couple of strings of mismatched beads and dangle earrings make this a non-conformist water element evening wear.
Men: A pair of navy pants with a self-designed graphic t-shirt and pair of distressed leather clogs might be a casual evening out. Alternatively, men can wear a bandana blue silk shirt, pair of lightweight cotton trousers, and a pair of slip-on tennis shoes.
Work Attire
Women: Office workers don flowing dresses and skirts or loosely-fitting trousers matched with silk or satin tops trimmed with lace. A sweater or jacket can be worn with any of these styles. Medium height heels or slingback sandals complete the look. Unique jewelry, especially necklaces, can be worn. Non-office workers may prefer to dress in pants with short-waisted jackets with beaded designs and leather clogs.
Men: For office workers, a pair of loose-fitting trousers and a plain blue or black shirt is best. Leather shoes are easy to slip on and off. Non-office workers may enjoy wearing silk Hawaiian style shirts or 1950s bowling shirts with pleated trousers and loafers.
Kuas #2, #5, and #8 Earth Element
The earth element is often conveyed in fashion with a flair for bringing various design styles together for a cohesive one, much like the earth connects all living matter.
Color Palette
The power colors for the earth element include the entire range of hues for:
Light yellow
Citrus
Sunshine yellow
Light beige
Medium brown
Dark brown
Additional Colors
In the feng shui productive cycle, the fire element creates the earth element so you can include these colors for your wardrobe:
Gold
Orange
Pink
Purple
Red
Russet
White
While your fashion color palette is wide, remember that the earth colors of yellow and brown are your go-to power colors. White is also a color that can help you make bold moves, so use it wisely in your wardrobe.
Colors to Avoid
The wood element is destructive to earth and the metal element will exhaust or weaken the earth. Avoid using the colors associated with these elements, such as green, pewter, silver, gold, bronze and copper.
Fabrics and Patterns
Earth Element

| Fabrics | Patterns |
| --- | --- |
| Bouclé | Plaids |
| Chenille | Checks |
| Corduroy | Blocks |
| Linen | Squares |
| Tweed | |
| Velvet | |
| Woven fabric | |
Styles
Earth element fashion is practical with a flair for versatility and goes for very basic serviceable styles. Spending more on quality clothing is justified as an investment in classic clothing that wears well with time.
Casual Wear
Women: Layering is a favorite fashion statement. A few pairs of blue jeans, corduroy slacks, twill capris and wool sweaters are wardrobe basics. Reversible clothing is highly prized. Cardigan sweaters, peacoats, and shawls are basic outerwear. Shoe choices, such as flip-flops, saddle oxfords, Mary Janes, clogs, tennis shoes, and loafers are classic standbys. Hats include tams, straw hats, and cloches.
Men: Blue jeans, corduroy trousers, and khaki shorts combined with cable pullover or cardigan sweaters and knitted scarves make this wardrobe. Various hat styles include Irish tweed touring caps, baseball caps, and toboggans. Casual footwear includes sandals, loafers, sneakers, and hiking boots.
Evening Wear
Women: Classic evening wear means a suited skirt, either floor or mid-calf length. Dress sets are favorites with matching interchangeable pieces, such as dress, skirt, and pants with a suit coat. Smart straight lines are always in fashion and work well with flat shoes preferred over high heels. Small shoulder bags are the evening handbag choice.
Men: A vested suit is the classic style, complete with a gold pocket watch and chain. Bowties are often preferred over neckties. The old-school cuffed shirt with antique cufflinks completes this ensemble. Oxford laced shoes are utilitarian as well as comfortable. Add a walking cane and a Fedora and this earth element man is ready to paint the town.
Work Attire
Women: Comfort and service are the utmost considerations for work clothes. Office workers prefer skirts, slacks, blouses, jackets, vests, and sweater sets in classic styles. Lined jackets and slacks are especially preferred for tweed and wool fabrics. Non-office work attire includes plain twill slacks and skirts matched with serviceable and comfortable shoes. Coats and jackets with zip-out linings make for multi-season wear. Scarves are a standard accessory and a simple pearl necklace and earrings can be worn with most outfits.
Men: For office workers, the same evening attire doubles for work, highlighted with a crisp white dress shirt and textured tie. Non-office workers enjoy the simplicity of work uniforms. If style is an option, then the most durable and serviceable clothing attire for the type of work is preferred. Boots are preferred over shoes for outdoor work.
Kuas #3 and #4 Wood Element
The Life Styled advises those with the wood element to go with fashions that are "sporty". You can still achieve this woodsy look when dressing for more formal events by adding touches of the wood element to your attire.
Color Palette
The colors of wood are the best colors for you to wear. These colors can be used for your main clothes, such as coats, slacks, jackets, sweaters, shirt and shoes.
Tan
Beige
Brown
Pale green
Emerald
Olive
Lime
Additional Colors
Water supports the wood element, so add various blues to your wardrobe and accessories to boost your overall fashion choices.
Colors to Avoid
In the exhaustive cycle, fire burns wood, so avoid fire colors red and orange. Metal colors of silver, gold, bronze and pewter shouldn't be worn since metal cuts into wood and destroys it.
Fabrics and Patterns
Consider your kua element and the natural properties it encompasses. For example, the wood element is calming and comfortable. You want your clothing to have both properties.
Wood Element

| Fabrics | Patterns |
| --- | --- |
| Bamboo | Flowers |
| Flannel | Vines |
| Linen | Leaves |
| Organic/regular cotton | Stripes |
| Silk | Scrolls |
| Wool | Curves |
Styles
Dressing with style requires fashion needs for activities for casual, work and social events. Don't be afraid to express your personal style.
Casual Wear
Women: Well-fitted clothing that allows graceful movement are favored. Loose-fitting pants or blue jeans afford comfort, style, and movability. Cotton tank tops, shells, t-shirts, pullover sweaters, and cotton floral skirts and dresses are just a few choices. Sandals, clogs, slip-ons, hiking boots, and sneakers are cherished comfortable styles.
Men: Loose-fitting trousers and blue jeans are also a plus for men's fashions. T-shirts, knit shirts, cotton shirts, and polo shirts help to build a casual wardrobe. Sandals, loafers, sneakers, and hiking boots should be added.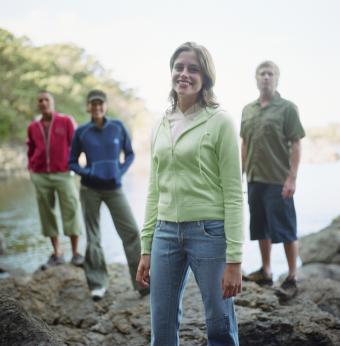 Evening Wear
Women: That casual look can translate to elegant with a spaghetti strap maxi dress made with a flowing skirt. Try a beige sleeveless v-neck blouson gown with embroidered and beaded bodice or an emerald a-line one-shoulder satin with a pleated floor length skirt. Go with matching pumps and a simple shoulder evening bag for each selection.
Men: A nice brown suit works best with a lighter tan shirt and a tie with a scrolling pattern. If styling with a French cuff shirt, go with a pair of stone set cufflinks. No jewelry is needed for a wood element man. Wear slip-on dress shoes and add a boutonniere in your lapel for that final touch.
Work Attire
Women: Office workers go for simplistic clean lines for unrestricted movements throughout the workday. Examples include, floral shift dress or a sweater set over a pair of linen slacks. Accessorize with chunky jewelry, a wooden lapel pin for a coat or painted/stained wooden beads with a matching pair of earrings. Select comfortable shoes, opting for low heels. For non-office jobs, opt for a pair of cotton duck slacks and cotton top with a pair of casual shoes. For colder months, flannel lined jeans, boots, and a bulky wool sweater will stave off the cold.
Men: Office workers choose a simple suit with clean lines. A tan shirt with a brown suit is a great choice when matched with a diagonally striped tan and brown tie. Add a tiger's eye lapel pin for a final touch. Opt for dress loafers and you're set for the office. If working in non-office jobs, go with khaki-colored work clothes and sturdy, comfortable work boots or shoes.
Kuas #6 and #7 Metal Element
Metal element people love high-end fashion and will spare no expense to dress sharp. For these individuals, quality reigns and style follows. Clothing is viewed as an investment. Purchase several classic pieces of clothing that never go out of style to maximize your investment dollars.
Color Palette
Metal colors include typical colors associate with metals. These include:
Brass
Copper
Gold
Pewter
Silver
Jewel tones
Additional Colors
The earth element is a productive cycle creator of metal and excellent accent colors to use with metal color palettes. Earth colors include:
Colors to Avoid
The fire element is destructive to metal, so red, orange, purple and pink should be avoided. The water element exhausts metal, so avoid wearing blues and black.
Fabrics and Patterns
Elegance is the prime directive for fabric choices for the metal element fashion. Rich materials are used with no thought about the expense.
Metal Element

| Fabrics | Patterns |
| --- | --- |
| Cotton | Polka dots |
| Lace | Dome shapes |
| Leather | Round |
| Satin | Semi-circles |
| Silk (Dupioni) | |
| Wool | |
Styles
The metal element is strong and often unyielding. Metal element people tend to be highly organized. This element's properties can be conveyed in clothing choices, but don't forget to add a few softer edges to keep your wardrobe look balanced.
Casual Wear
Women: Cashmere sweater over a Dupioni silk blouse with leather pants and leather heels is a casual attire for metal element people. Jewelry is abundant with precious jewels.
Men: Casual is tailored to the "t" and nothing short of linen, organic cotton, wool and silk fabrics considered. Merino wool socks fit nicely into hand-tooled loafers. This is one casual that's better than other elements' more formal attires.
Evening Wear
Women: Change up the typical little black dress to a silk pewter option or satin bronze pick as the ideal wardrobe item. Toss in designer shoes and handbag for the perfect metal outfit. Nice gemstones set in yellow or white gold completes the outfit.
Men: A tailored silk suit in pewter or a dark bronze makes this man of steel look as though he popped out of the latest edition of a men's fashion magazine. Sleek, unembellished leather shoes are all he needs to make his entrance to any party newsworthy.
Work Attire
Women: Office workers don designer label clothes made from the finest fabrics available. Merino wool silk-lined slacks or pencil skirt and matching jacket with a silk or satin blouse and the latest leather fashion heels set the pace. Eighteen carat gold or white gold jewelry is the only choice for jewelry unless platinum is preferred. Silk scarves are often batik designs or designer signatures.
Men: Tailored silk and wool suits are the norm with 18 carat gold cufflinks, tie clasp, and lapel pin. Irish linen handkerchiefs triangle from the suit breast pocket. Italian leather shoes never squeak as this silk tie professional makes his way up the corporate ladder.
Kua #9 Fire Element
It's not surprising that fire element people love dramatic things, especially clothing. The element of fire is fierce, unpredictable, and often wild. The styles and colors for fashion choices should reflect this inner passion for life.
Color Palette
Fire colors are warm and considered passionate. These play well into the sexy energetic style for this element.
Gold
Orange
Pink
Purple
Red
Russet
White
Additional Colors
The wood element feds the fire element, so be sure to add some green to your wardrobe.
Colors to Avoid
The water element is destructive to fire, so avoid adding blue hues to your wardrobe. Metal is an exhaustive element to fire so avoid wearing pewter, silver, gold, copper, bronze, and brass since these will weaken your personal energy level.
Fabrics and Patterns
This element is high-energy and exudes sex appeal. Clothes are high fashion, top of the line and draw everyone's attention. Fabrics that are tactile and pleasing should be soft, flowing and elegant. Natural Awakening Magazine states the fire element is represented by "living organisms" (and a few man-made options).
Fire Element

| Fabrics | Patterns |
| --- | --- |
| Cotton | Chevron |
| Faux fur | Flame |
| Leather | Star |
| Satin | Diamond |
| Silk | Harlequin |
| Wool | Herringbone |
Styles
Snug fitting clothes designed to accentuate curves and pleasing physiques pay off with feng shui fashion.
Casual Wear
Women: Sexy is the fire element style. Tight-fitting jeans, short shorts, and mini-skirts can be paired with off-the-shoulder lace tops or crop top. Slouch pants or a triangle hem maxi skirt can be accentuated with a tight form-fitting low neck top. Over the knee boots, high heels, strap sandals, and lace cuffed ankle boots are some of the sexy footwear for casual dress.
Men: Tight-fitting, worn blue jeans or cut-off shorts with a tank t-shirt are great casual looks. A form-fitting t-shirt with sweat pants and a pair of running shoes are great for a morning run or casual day at the park. Leather slip-on shoes and casual slacks with a geometric silk shirt are another great weekend look.
Evening Wear
Women: Go sheer, lace, silk or satin with a short or floor length evening dress. Opt for a low back and low front design and make sure to wear sparkling jewelry. Strappy heels need a matching clutch handbag to go perfectly with the dress.
Men: A black tuxedo with a white pleated shirt and black leather slip-on shoes makes a fiery evening spark. Red cuff links will catch everyone's attention. If venturing out for a less formal event, wear a pair of tailored dress slacks and white dress shirt with no tie.
Work Attire
Women: Fire element office attire totters on the brink of almost too much, but just enough under the radar to be acceptable. Go for a snug fitting business suit with a pencil skirt and notched collar or lapel jacket. High heels and fashion jewelry complete the professional look. Non-office work clothes might consist of tight-fitting khakis in one of the fire colors topped with spaghetti strap cami and a short waisted jacket or shrug.
Men: For office workers, a form-fitting suit, red tie, and leather dress shoes is a great choice. Casual office attire demands a pair of dress slacks, fitted polo or knit shirt and casual leather slip-on shoes. Non-office work attire includes tank t-shirt and a pair of fitted jeans with work boots.
Feng Shui Inspired Fashion Choices Enhance Your Life
By using feng shui kua elements, you can attract auspicious chi energy into your life and enhance your personal chi energy. This emphasis in fashion choices sets out to give you an edge in your efforts and brings a supportive good feeling about how you look to the world.